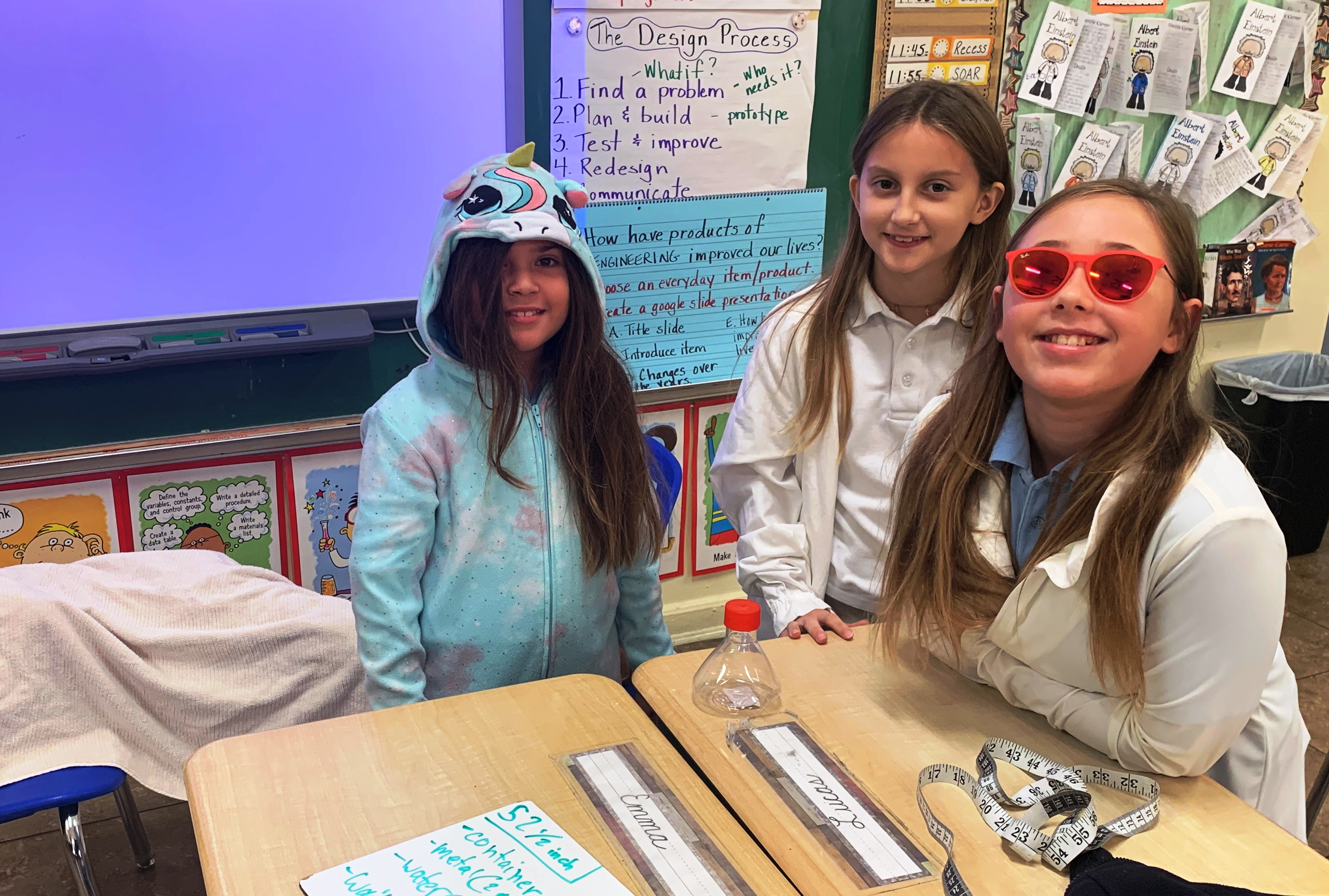 Students in Preschool- Grade 8 have the opportunity to visit our new daVinci Studio to learn by design and engage in collaborative cross-curricular projects.
We are thrilled to integrate our S.T.R.E.A.M (Science, Technology, Religion, Engineering, Arts, and Math) Learning Labs elective course options available for all students in grades 6-8! In lieu of taking the traditional elective courses, our middle schoolers are given the opportunity to broaden their horizons by taking one innovative learning lab each semester; PE and Spanish are still be required yearlong.
A few examples of previous STREAM Learning Labs include:
APP Attack! (Grade 7 & 8) - Students have fun while learning how Computer Science is a medium for creativity, communication, and problem solving. Students build their own websites using browser based HTML and JavaScript programming will be used to create apps and games.
Art Around the World (Grades 7 & 8) - In this class, students explore different cultures and learn the significance of their art. Students understand the role of art in different cultures and then have the opportunity to create pieces to celebrate that culture. Students study the art and view samples through photos and video. This class encourage students to appreciate diversity through art.
Calling all Singers! (6, 7 & 8) Be a part of our transformed middle school performance choir! Sharpen your fundamental vocal musicianship, technique, and aesthetic awareness through the study and performance of many exciting songs. Students will learn to sing in two and three part harmonies, develop an appreciation for music of different styles, and enhance sight-singing and ear training skills. This year, only those middle school students who sign up for performance choir will be invited and required to participate in the annual Christmas Show. Also, please note that singing at the Sunday 9am mass is not required for participation in this course. Don't miss out on this awesome opportunity and the possibility of performing at other school and community events!
Code Breakers (Grade 6) - In this course students enter the world of computer coding by learning how to create animations, computer games, and interactive projects via block programming. Students will learn fundamental programming concepts such as variables, loops, conditional statements, and event handling. Students will use their imagination to develop interactive projects by creating characters, importing objects, and importing studio recordings to make their characters dance, explore a maze, or, play a game.
Design Squad (Grades 6, 7 & 8) – Join the Design Squad as you complete hands-on investigations of a variety of engineering disciplines including emphasis on Biomechanical, Materials and Mechanical. Students will investigate a brain model to identify impacts of concussions and the projects will implement the Engineering Design process to create projects that include making bouncy balls, designing packing to protect fragile objects and designing crash helmets.
Mix it Up (Grade 6) - Students will explore mixed media in this art course. The class explores visual expression through a wide variety of materials, media and dimensional formats. Painting, drawing and sculpture will all be explored during this course. The artist within will be nurtured, challenged and strengthened.
Spanish Immersion (Grades 6, 7 & 8) - Are you a native Spanish speaker and have always found the pace of Spanish class a bit slow for your taste!?! Well hold onto your seats, because in Spanish Immersion you will have fun learning advanced language skills to become a stronger speaker, reader and writer! Students enrolled in Spanish Immersion should expect a faster class pace, deep critical thinking discussions, and a whole lot of fun learning about our Spanish heritage and culture. You may also have the privilege to represent SRL at a local competition! This course is sure to prepare you for high school level Spanish and beyond. Como se dice? This is in addition to your regular Spanish Class.